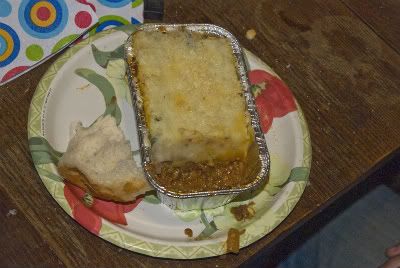 Every Thursday we have friends come over dinner, and this one was no different. With the weather finally starting to get cooler out here in Arizona we decided it was time to make Shepherd's Pie. The recipe that we use is one I found on the
BBC's website
, which calls for a layer of leeks between the meat and mashed potatoes. It's a small detail that really adds to the overall flavor. As you can see we cooked them and served them in little loaf pans, it was the perfect serving size.
And in case your wondering Shepherd's Pie calls for ground lamb, Cottage Pie is ground beef. We like to use a mix of both lamb and beef, call it a Shepherd's Cottage Pie if you will.
Ingredients
1 tbsp olive oil
1 large onion, chopped
1 medium carrot, chopped
560g/1¼lb minced beef
1 x 400g/14oz can tomatoes
2 tbsp tomato purée
290ml/10fl oz beef stock
1 bay leaf
1 sprig fresh thyme, leaves only
salt and freshly ground black pepper
1 tbsp tomato ketchup
1 tbsp Worcestershire sauce
knob butter
2 leeks, chopped


For the mash topping
4 large King Edward potatoes
splash cream (to taste)
large knob butter (to taste)
salt and freshly ground black pepper
Method
1. Heat the oil in a large lidded pan. Add the onion and carrot and fry over a medium heat for five minutes until soft.
2. Add the minced beef to the pan and fry for a few minutes to brown the mince all over.
3. Add the tomatoes, tomato purée, beef stock, bay leaf and thyme to the pan.
4. Simmer for 30 minutes. Season with salt and freshly ground black pepper.
5. In the meantime, for the mash topping, chop the potatoes into quarters and boil in a pan of boiling salted water for about 10-15 minutes, until tender.
6. When the potatoes are cooked, drain the water and mash the potatoes well.
7. Add cream, butter and salt and freshly ground black pepper to taste. Set aside. Preheat the oven to 190C/375F/Gas 5.
8. After 30 minutes cooking time, taste the meat, and add ketchup and Worcestershire sauce if desired. If the mixture is too wet, cook for a few more minutes to reduce the liquid.
9. In a separate pan, heat a little butter. Add the leeks and fry until softened, but not coloured.
10. Transfer the meat into an ovenproof dish and layer the leeks on top.
11. Arrange spoonfuls of the mash on top of the meat and leeks and use a wet spatula to smooth out the edges. Cook for about 30 minutes, until the potato is crisp and golden-brown around the edges. Serve hot.
/*captains comments: Ok so I didnt follow this recipe exactly. When you start dealing with agricultural products their flavors can very, so you have to taste it and modify. Like tonight the tomatoes were not super acidic so I splashed in some french red wine vinagar. Also if you can tell, this is a brirtish recipe so good luck finding the king's potatoes. HOWEVER if it's possible, go out and try to find real british Lea and Perrins Worcestershire. It is sooooooo much nicer than the american stuff. Flavors are brighter but overall it is milder and more pleasing. Think earl grey vs oolong tea, and is worth at least $10. This recipe is also awesome if you want to double(or tripple) and freeze them in little tins for later dinners on the run!*/