8.17.2009
Today Captain Insane-o and I went to Magic Garden Nursery in search of a Calamansi tree, a type of Southeast Asian citrus. I received a tip that these trees were available to purchase in Arizona and after a bit of googling I decided I wanted one. I had a very pleasant experience and will be happily going back on Thursday to buy a Calamansi tree, because instead we came home with a Buddha's Hand Tree. I've been fascinated with Buddhas hand since battle citrus on Iron Chef America, the fruit that the tree produces is all pith and peel, it is also very fragrant. The tree has one piece of fruit and if it survives till Fall when it ripens half of it will be turned into Buddhas Hand-cello and the other half will be turned into marmalade by the Captain.
http://www.magicgardennursery.com/
/*Captain Insane-o's comments: In the picture with the fruit, yes those are thorns, very sharp very big thorns. The poor guy who took it to the car for us ended up bleeding all over our brand new terra cotta pot and he's a professional. I look forward to cooking the fruit, but not to picking the fruit.*/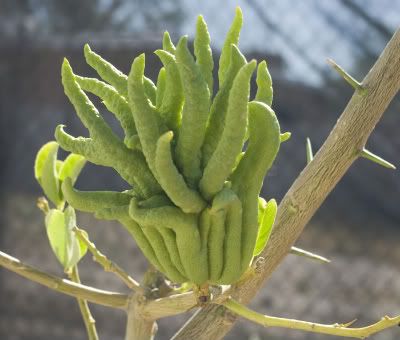 Posted by

D @ Kitchen Closet
at 12:38 AM
No comments:


8.14.2009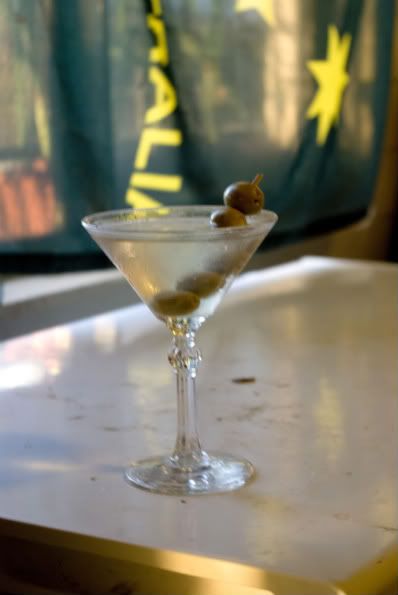 Due some unfortunate events this week I decided today was a good day to stop at Plaza Liquors, my favorite local liquor store. I walked out with more than expected, and then as the day unfolded I realized we were heading toward martinis. He threw together three martinis, two variants of apple-tinis one sweet, one dry and a dirty lemon olive martini.
/* Captain Insane-o's comments: For starters these drinks were not wasted they were given to thirsty freeloaders, the recipes are as follows
1 pt(thats part) vodka, 1 pt gin, 1 pt vermouth, 1/2 part brine from lemon stuffed olives, pour the stuff in a glass with ice and stir. strain into a chilled glass
2 pt vodka, 1 pt apple schnapps...
2 pt apple schnapps to 1 pt vodka, pour in a glass with ice, stir, strain (into a chilled glass), and serve
I like to mix by parts with Martini variants as they can be made in pitchers for bulk service.
Also if you shake a drink you make it cloudy, overly cold, and watered down. The chilled glass is the real trick to a good martini, as no one wants to drink 2-3 oz of room temperature booze.*/
Posted by

D @ Kitchen Closet
at 12:39 AM
No comments: