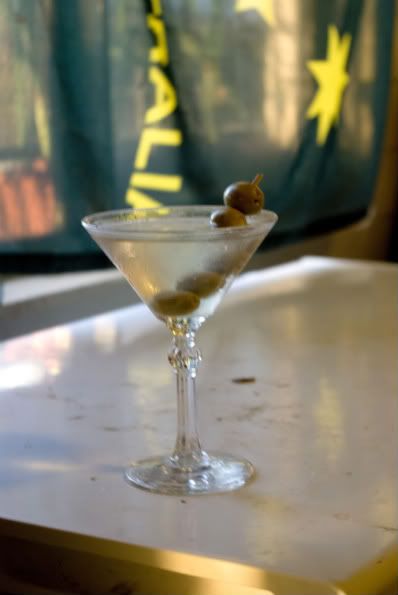 Due some unfortunate events this week I decided today was a good day to stop at Plaza Liquors, my favorite local liquor store. I walked out with more than expected, and then as the day unfolded I realized we were heading toward martinis. He threw together three martinis, two variants of apple-tinis one sweet, one dry and a dirty lemon olive martini.
/* Captain Insane-o's comments: For starters these drinks were not wasted they were given to thirsty freeloaders, the recipes are as follows
1 pt(thats part) vodka, 1 pt gin, 1 pt vermouth, 1/2 part brine from lemon stuffed olives, pour the stuff in a glass with ice and stir. strain into a chilled glass
2 pt vodka, 1 pt apple schnapps...
2 pt apple schnapps to 1 pt vodka, pour in a glass with ice, stir, strain (into a chilled glass), and serve
I like to mix by parts with Martini variants as they can be made in pitchers for bulk service.
Also if you shake a drink you make it cloudy, overly cold, and watered down. The chilled glass is the real trick to a good martini, as no one wants to drink 2-3 oz of room temperature booze.*/